QUORUM COURT:
Ashley County has 9 members who are called Justices of the Peace and are elected every 2 years.
Ashley County Quorum Court meets on the 2nd Tuesday of every month at 02:30 p.m. in the Ashley County Courthouse – EH Room.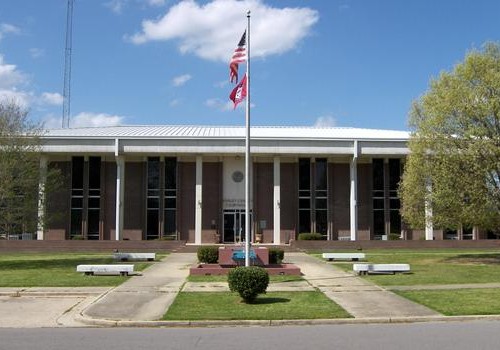 The Quorum Court may exercise the following powers, but not limited to: (a) the levy of taxes in the manner prescribed by law; (b) appropriate public funds for the expenses of the county in a manner prescribed by ordinance; (c) preserve the peace and order and secure freedom from dangerous and noxious activities; provided, however, that no act may be declared a felony; (d) for any public purpose, contract, or join with another county, or with any political subdivision or with the United States; (e) create, consolidate, separate, revise or abandon any elected office or offices except during the term thereof; provided, however, that a majority of those voting on the question at a general election have approved said action; (f) fix the number and compensation of deputies and county employees; (g) fix the compensation of each county officer with a minimum and maximum to be determined by law; (h) fill vacancies in elected county offices; (i) provide for any service or performance of any function relating to county affairs; (j) to exercise other powers, not consistent with law, necessary for effective administration of authorized services and function (ACA 14-14-801).
The County Clerk is the official recorder of the minutes.
QUORUM COURT MEMBERS along with contact numbers:
(ELECTED JANUARY 1, 2023 – DECEMBER 31, 2024)
| District | Name | Phone |
| --- | --- | --- |
| JP DISTRICT #1 | RON MILLER | (870) 510-1299 |
| JP DISTRICT #2 | BILLIE PIPPEN | (870) 550-0797 |
| JP DISTRICT #3 | JIMMY PENNINGTON | (870) 853-6778 |
| JP DISTRICT #4 | RICKEY NELMS | (870) 866-6729 |
| JP DISTRICT #5 | JEFF LANGLEY | (870) 500-8956 |
| JP DISTRICT #6 | RONNIE WHEELER | (870) 364-4780 |
| JP DISTRICT #7 | RHONDA PIPPEN | (870) 364-5720 |
| JP DISTRICT #8 | BOB RUSH | (870) 500-9050 |
| JP DISTRICT #9 | GREG SIVILS | (870) 304-6461 |