Vickie Riley Stell
Circuit Clerk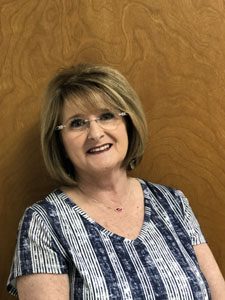 The Circuit Clerk and Recorder is the clerk of the civil, domestic relations, criminal and juvenile courts, preparing summons, warrants, orders, judgments and injunctions authorized by the circuit, domestic relations and juvenile court for delivery by the county sheriff. As ex-officio county recorder, the Circuit Clerk is responsible for recording deeds, mortgages, liens, surety bonds, and other orders and instruments which involve property within the county.
Additionally, the Circuit Clerk's Office has been deemed as a Passport Acceptance Facility and assist citizens to obtain their passport. Hours of Passport Acceptance 8:00 am to 3:30 pm
STAFF
Chief Deputy: Kim Lauhon
Deputy Clerk: Lisa Fulgham
Deputy Clerk: Araceli Pacheco
Deputy Clerk: Chastity Monroe
Deputy Part time Clerk: Charlotte Rush
Mailing Address:
205 E. Jefferson St.
Hamburg, AR 71646
Office hours are 8:00 a.m. to 4:30 p.m. We are open during the lunch hour.

MISSION STATEMENT
The Ashley County Circuit Clerk's Office is committed to providing exceptional service to the citizens and promoting excellence in the Judicial Administrations.
VISION STATEMENT
The Ashley County Circuit Clerk and Recorder's office is committed to providing professionally trained staff while performing our duties with integrity, efficiency and accuracy. Our office pledges to treat all citizens with a friendly and accessible environment while treating all individuals with honesty and fairness. As the custodian of the public's official records and keeper of court and land documents, we strive to maintain superior quality of the record management procedures by constantly searching for the newest and best technology for the citizens of Ashley County.
CHILD SUPPORT COLLECTION
Effective January 1, 2019 – All child support payments must pass through ONLY.
Only checks or money orders made payable to the custodial parent will be accepted.
The Child Support Division of the Circuit Clerk's Office maintains the records for court ordered child support payments. Past due child support or failure to pay child support is handled through the Office of Child Support Enforcement.
Hours: 8:00 am – 4:30 pm Monday – Friday
Phone: 870-853-2030
Child support payments and the clerk's yearly fee of $36.00 can be mailed to the following address:
Ashley County Circuit Clerk
205 E. Jefferson
Hamburg, AR 71646
Office of Child Support Enforcement:
428 A W. Gaines St.
Monticello, AR 71655
Phone: 870-367-8763
Toll-Free: 800-358-3026
Arkansas Child Support Clearinghouse: 1-866-428-8382
COURT FILING FEES
The Circuit Clerk's Office is NOT permitted to give any legal advice nor provide ANY documents.
The Office of the Circuit Clerk accepts the following forms of payment: cash, checks, and money orders.
New filing: $165.00
Includes Domestic Relations, Civil, Appeals, Foreign Judgments (out of state)
Ark Code Ann. §21-6-403 (b)(1).
Summons/Subpoena: Ark. Code Ann §21-6-402 $2.50 per person
District Appeal: Criminal Division $150.00
Reopen: Ark Code Ann §21-6-403(b)(2) $50.00
Transfer: $50.00
Petition to Seal: no charge
Ark Code Ann. §16-90-904(a)(3)(A) Criminal cases adjudicated after March 6, 2013
Process Server Application: (Act 328-09) $140.00
Process Server Renewal: (Act 328-09) $50.00
Writs: $20.00
Foreign Judgments (in state of Arkansas): $15.00 for first page, plus $5.00 for each additional page.
Copies: $0.50 per page
Fax Filing: $ 1.00 per page
Certification: $5.00 per document up to 10 pages and $0.50 per page thereafter.
DD-214 forms: no charge
COVER SHEETS
Cover Sheets can be found on the Arkansas Judicial web page (www.arcourts.gov)
As of July 1, 2018, if there is not a (2") Two-inch margin at the top of each pleading, you must have a Cover Page.
Uniform Cover Page
Confidential information Sheet
Domestic Cover Sheet
Domestic Disposition Sheet
Civil Cover Sheet
Civil Disposition Sheet
Criminal Cover Sheet
Criminal Information Sheet
Criminal Defendant Appeal-Post-Conviction Relief
Juvenile Dependency-Neglect & Fins Cover Sheet
Juvenile Dependency & Dependency-Neglect Adjudicate Disposition Sheet
Juvenile Dependency & Dependency-Neglect Disposition-Adoption-Guardianship
Juvenile Fins Disposition Sheet
Juvenile Delinquency-EJJ Cover Sheet
Juvenile Delinquency Disposition – Probation Revocation or Aftercare Violation Sheet
Juvenile EJJ DYS Release Hearing or Review Hearing Sheet
DD-214
The Department of Defense form is an official document issued by the U.S. Army, Air Force, Navy, Marine Corps, and Coast Guard at the time of discharge or separation from military service.
The DD-214 is commonly referred to as "discharge papers."
The Department of Defense advises all discharged personnel to file a copy of their DD-214 at their local courthouse. In Arkansas, DD-214s are filed in the circuit clerk's office. A copy is kept as a part of the circuit clerk's official records. The original is returned to the filer. There is no charge to have a DD-214 filed with the Ashley County Circuit Clerk's Office.
An official replacement DD-214 can be obtained from the National Personnel Records Center at the National Personnel Records Center at the National Archives in St. Louis, Missouri.
Copies can be obtained by going to this website:
http://www.archives.gov/veterans/military-service-records/
National Archives policy is that copies of a DD-214 may only be given to the veteran or his or her next of kin who need it for evidence of the veteran's status. The next of kin can be any of the following: surviving spouse that has not remarried, father, mother, son, daughter, sister, or brother. A copy if a DD-214 can also be provided to someone who has the veteran's power of attorney. A copy could be obtained from our local Veteran's office.
DD-214 is recorded in the Circuit Clerk Recorder's Office – no fee
ELECTRONIC RECORDING
Electronic Document Recording Services
Ashley County is electronically recording (eRecording) land records. Documents that originate on paper, such as loan closing documents, are scanned and placed into their proper recording order. When fully integrated, the electronic document recording process takes only seconds.
Advantages of eRecording with Ashley County:
Reduced labor, materials, postage and courier costs
Shortened time gap to recordation
Fewer document errors and rejections
Elimination of payment errors on county fees
Increased security when sending and receiving documents
Improved tracking and filing of documents
Reduced consumption of fuel, electricity, and paper
Ashley County accepts documents from:
Bulk Data
Available from Titlesearcher.com
Business Information Systems (BIS)
866-604-3674
FILING BY FAX
Fax number (870) 853-2034
We accept filings for OPEN CASES ONLY by fax for Civil, Domestic, Criminal and Juvenile cases. For Probate matters, please contact the County Clerk (870) 853-2020.
The cost for faxing supplemental case filings is $1.00 per page.
The time for file marking is limited to regular office hours 8:00 a.m. to 4:30 p.m., weekdays except for holidays.
After a reasonable time from document transmission, it is the responsibility of the sender to confirm via phone that a document has been received and filed.
Note: Original document does not need to be mailed if filed by fax, unless it is an order signed by the Judge.
Frequently Asked Questions
Information on foreclosure sales, licenses and certificates, court system, land records, filing fees and more.
Q: What is the contact information for the District Courts?
A: There are two (2) District Courts: Hamburg (870) 853-8326; Crossett (870) 364-7620
Q: Where do I pay fines and restitution?
A: Fines and restitution imposed is paid at the Sheriff's Office. For more information call (870) 853-2040. Fines and restitution ordered by District Court are handled by the District Court.
Q: Are juvenile records available for viewing?
A: NO. All juvenile records are confidential.
Q: Where can I get a list of foreclosure sales?
A: All foreclosure sales are posted outside the Circuit Clerk's Office on the bulletin board.
Q: What do I need to know to bid on foreclosure sales?
A: All property is sold "as is" with no warranty. The Circuit Clerk's Office does not perform land searches. The Circuit Clerk's Office only handles the judicial foreclosures or sales ordered by the court. All non-judicial foreclosures are sold in the main hallway of the courthouse. Information on each sale is posted outside the Circuit Clerk's Office on the bulletin board. The postings are made by the law firm handling the foreclosure.
Q: Does the Circuit Clerk's Office have blank forms (Divorce, Name Change, Deeds, Mortgages, etc.)?
A: NO. We do NOT provide any legal forms for divorces, name change, deed, mortgages, etc. You may contact an attorney, Title Company, or if you know how to fill out the forms yourself, you may visit www.arlegalservices.org.
Q: Where do I file my notary information?
A: Notary certificates and bonds are filed in the Circuit Clerk's Office. For more information on becoming a Notary Public, see the Arkansas Secretary of State web site.
Q: Can I get a copy of my marriage license?
A: Marriage licenses are located at the County Clerk's Office, (870) 853-2020
Q: Can I get a copy of my birth certificate?
A: Birth certificates are kept at the Bureau of Vital Records in Little Rock, AR. As of January 2019, you may check with your local County Health Unit (870) 853-5525. For births outside of Arkansas, contact the government offices of the state of birth.
JURY DUTY
Terms of Service for each year:
January 1st – April 30th
May 1st – August 31st
September 1st – December 31
IF SUMMONED FOR JURY DUTY, PLEASE CALL THE CIRCUIT CLERK'S OFFICE EACH NIGHT BEFORE TO MAKE SURE THE CASE IS STILL ON. MANY TIMES THE CASE MAY BE CANCELLED OR RESET. WE WILL LEAVE A MESSAGE ON OUR ANSWERING MACHINE OR OUR FACEBOOK PAGE. (870) 853-2030
Qualification:
Jury service is a high duty of citizenship. Jurors aid in the maintenance of law and order and uphold justice among their fellow citizens.
Ashley County Registered Voter
18 years of age or older
Citizen of the United States
Resident of Ashley County, Arkansas
Sound mind and good moral character
Able to read and write the English language
Must not have served as a juror in Ashley County in the last two years.

This only applies to jurors that are seated

Must not have been convicted of a felony that has not been pardoned.
Only a Judge can excuse a person from jury service. The law does not allow a person to be excused for economic reasons or business reasons. However, you may speak to the Judge in the Court to your particular situation. There are no guarantees that you will be excused.
NOTE TO EMPLOYERS: It is unlawful for any employer to discharge, threaten to discharge, intimidate or coerce any employee for attendance or scheduled attendance in connection with jury service. The Circuit Clerk's Office can provide upon request, a certified letter showing the attendance for those jurors whose employers require them.
Payment Amounts and Length of Service
Payment is set by the State of Arkansas and the Quorum Court of Ashley County. Jurors seated to hear the trial are paid $50.00/day. Those who report but are not selected are paid $15.00/day. Checks are run weekly for those seated or reported.
Length of Service – Most trials are one to four days, with some exception. Due to the number of jurors summoned, most jurors will generally appear one week a month during his/her term, this is dependent on the number of trials conducted.
Frequently asked questions:
Q: May I bring a cell phone to court?
A: No cell phones are allowed in the courtroom.
Q: What is the appropriate dress for serving jury duty?
A: Business casual is a good dress directive. You should be comfortable. Please avoid shorts, halter tops, inappropriate t-shirts and muscle shirts. Please remember that you are going to a place of respect, so dress accordingly.
Q : How did my name get chosen?
A: The Ashley County Judges have chosen to use Registered Voters. The Circuit Clerk downloads a master list from the Arkansas Voter Registration database of Ashley County voters. This process is done at a random pull of the entire database. This process happens every four months.
Q: Will I be provided lunch?
A: No. You will be allowed to go to lunch on your own during lunch break.
Q: Am I required to speak to the attorneys/reporters after the case is concluded?
A: No. You are not required to speak to anyone after the case if contacted to do so. It is simply by your choice.
Q: Is there an age limit to serve as juror?
A: In the State of Arkansas, there is no exemptions on age other than you must be at least 18 years of age or older.
Q: What is the temperature of the courtroom?
A: Most Judges will keep their courtroom cold, so please bring a jacket or sweater.
Q: What if I have vacation or a doctor's appointment scheduled?
A: Contact the Circuit Clerk's Office or the Circuit Judge that is listed on your summons. (870) 853-2030
JUVENILE COURT
Delinquency cases, dependency-neglect cases and Family in Need of Services
(FINS) cases are all handled in Juvenile Court.
JUVENILE RECORDS ARE KEPT CONFIDENTIAL
NOTARY PUBLIC AND eNOTARY
To become a Notary Public, visit the Arkansas Secretary of State website for the application.
Notary Public certificates and bonds are filed at the Circuit Clerk's office. The
recording fee is $20.00. For more information on how to file your Notary Public certificate, call (870) 853-2030.
MUST HAVE: Original Bond and three (3) certificates to file at the Circuit Clerk's Office.
REAL ESTATE RECORDING REQUIREMENTS
Recordable Instrument Requirements:
Original Instrument on eight and one-half by eleven-inch (8 ½"x11") paper have a two and one-half inch (2.5") margin at the top of the first page, for the file mark of the recorder.
The title of the document
Notarized signature
Name and address of person or firm who prepared the Instrument (Ark. Code Ann.§ 14-15-403)
Revenue stamps on warranty deeds (if revenue changed hands)
The following Real Estate Transfer Tax Stamp Statement is required along with the printed name, signature and address of Grantee. "I certify under penalty of false swearing that documentary stamps or a documentary symbol in the legally correct amount has been placed on this instrument."
A self-addressed stamped envelope (if sending in by mail)
Compliance with Standardized Form Act 757 of 2003 (or refer to Ark. Code Ann. § 14-15-402).
Recording Fees: $15.00 First page, $5.00 each additional page
Deeds, Deeds of Trust, Mortgages, Release Deeds, Powers of Attorney, Plats, Survey Plats, Notary Bonds, Foreign Judgments (within the State of Arkansas), Lis-Pendens, Medical Liens, Mechanic's and Materialman's Liens, Federal Tax Liens, and any Recordable instruments except as otherwise described in the section (Ark Code Ann. §21-6-403 (a)(1)(A) Act 615 of the regular session, 2007)
Releases & Assignments: $15.00 first page, $5.00 each additional page
If more than one reference is listed in the document it is an extra $15.00 for each reference.
If your original document is on legal size paper the recorder may waive the requirements for good cause and record your document for an additional $25.00. Said fee is in addition to the regular recording fees.
Land Records
2009 to present is on this site
Titlesearcher.com: is a subscription-based service for anyone who performs title searches on a regular basis. Titlesearcher is downloadable program that offers 24-hour access to the most current information. You can start a pay-as-you-go account with an initial deposit of $5.00 by using a credit card.
Bulk Data
Available from Business information systems (BIS)
866 -604-3674 or (423) 773-1590
Visit us: All records are available for public search at the Circuit Clerk's Office in the Ashley County Courthouse, 205 E. Jefferson St., Hamburg, AR 71646.
If you have any questions or concerns about these search options, please contact the Circuit Clerk's Office at (870) 853-2030
US PASSPORTS
The Circuit Clerk's Office is a certified Passport Acceptant Agency. Citizens may fill their applications out on-line at www.travel.state.gov and bring to the Circuit Clerk's Office or obtain the applications in the office. See below for application requirements and fees or you may call (870) 853-2030.
A passport is an internationally recognized travel document that verifies the identity and nationality of the bearer. A valid U.S. passport is required to enter and leave most foreign countries. If you are flying, you will have to purchase the book. If driving or taking a cruise, you can use the card.
For a certified copy of your Arkansas birth certificate visit HealthyArkansas.
For an all states listing visit Vitalchek.
U.S. passport applications are accepted at the Circuit Clerk's Office, a designated acceptance facility, any time between 8:00 – 3:30.
Step 1: Determine the kind of passport you need.
Step 2: Gather the required documents and payment fees.
Step 3: Apply at the Circuit Clerk's Office.
Check the status of your passport application online.
Passports issued to those 16 years and older are valid for (10) Ten years. Passports for children under 16 years are valid for (5) Five years and are not renewable.
Passport Application Requirements:
One (1) 2" by 2" Passport Photo.
U.S. Birth Certificate (original or certified copy) or naturalization papers.
Passport Application completed in black ink or typewritten.
Driver's license or a state-issued ID card.
For children ages birth to 15 years:

Both parents must sign the application in front of the accepting agent.
Child(ren) must be present at time of application.

For children ages 16 and 17:

One parent must sign the application in front of the accepting agent.
Child(ren) must sign the application in front of the accepting agent.
Application Fee (made payable to the U.S. Department of state) has to be check or money order.
Book, Adult (age 16 and over) $110.00
Book, Children (age 15 and under) $80.00
Card, Adult (age 16 and under) $30.00
Card, Children (age 15 and under) $15.00
Passport Acceptance Fee of $35.00 per passport is set by U.S Department of State. This is paid to the Circuit Clerk and can be cash or check.
Passport Picture can be made at Walmart or Walgreens or any photographer.
Recommended use of Overnight Return Delivery Service (USPS Express Mail)
The Overnight Return Delivery Service fee is an optional fee charged when customers request to have their newly issued U.S. Passport book shipped to them using Overnight Return Delivery Service. Please note that Overnight Return Delivery Service is not available for the U.S. Passport Card. Customers applying for the passport book and the passport card will only receive the passport book by Overnight Return Delivery Service. Passport cards will be mailed to the applicants using first class mail service. No fee for cards.
Expedite Fee (payable to the U.S. Department of State) $60.00
Expedite return shipping fee (payable to the U.S. Department State) $16.48
THESE FEES ARE THE CURRENT FEES, ALL FEES SUBJECT TO CHANGE, SO CHECK WITH THE CIRCUIT CLERK'S OFFICE OR GO ON-LINE AT www.travel.state.gov BEFORE APPLYING.