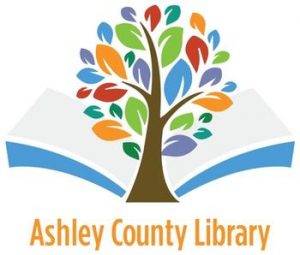 Holly Gillum
Director
Ashley County Library
211 East Lincoln Street
Hamburg, Arkansas 71646
www.ashcolib.com
Hours are:
Monday 9:00 – 5:30
Tuesday 10:00 – 5:30
Wed. – Fri. 9:00 – 5:30
Saturday 9:00 – 1:00
Free wi-fi during working hours.
Phone: 870-853-2078
Fax: 870-853-2079
Email: ashcolib@gmail.com
Visit and join our Facebook page.

Library cards are free of charge and enable patrons to access our library materials, including public computers as well as membership to the Arkansas Digital Library Consortium where e-books and e-audiobooks may be accessed.
We have books for all ages, audio books, DVDs, and magazines for circulation. Circulation periods are 3 weeks for print material and 7 days for DVDs and magazines, with late charges of 5¢per day. We have an in-house genealogy section for research and an experienced staff willing to help with questions.
We provide business services of:
Scanning – $1.00 per page
Faxing – $1.00 per page, sending or receiving
Copying/Printing of 25¢per page for black/white copies & up to $1.00 per page for color
Lamination – $1.00 per page