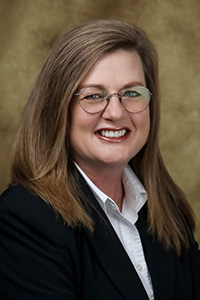 Beth Rush is currently serving in her fifth term as Ashley County Assessor and in her 15th year in Ashley County government. Prior to taking over the Assessor's office, she served as the County Election Coordinator and Deputy Registrar for the Ashley County Clerk.
Rush currently serves as Past President of the Arkansas Assessors Association following a term as President where she was awarded both the 2022 Outstanding Assessor Award by the Arkansas Chapter of the International Association of Assessing Officers (IAAO); and the 2022 Kenneth Eddy Memorial Award by the Arkansas Assessor's Association (AAA). Rush has served as Vice-President, Board Secretary/Treasurer and two terms as District 4 Representative.
Since taking office as Ashley County Assessor in 2013 Beth has earned both her Level IV Senior Appraiser and Level IV Senior Administrator designations from the State Assessment Coordination Division of the Department of Finance and Administration in Little Rock, and the International Association of Assessing Officers (IAAO). In 2019 she was appointed by Governor Asa Hutchinson to serve a second term on the Arkansas GIS (graphical information systems) Board as the Arkansas Assessors representative. Most recently, Beth was awarded the prestigious Assessment Administration Specialist (AAS) designation by the IAAO. Her active professional memberships include the Arkansas Association of Counties (AAC), the IAAO including the local Arkansas Chapter, and the Southeast Arkansas GIS (SEAGIS).
Beth and her husband Reuben are lifelong Ashley County residents and members of the North Crossett First Baptist Church. She enjoys spending time with their five children and two granddaughters, reading, rooting for the St. Louis Cardinals, helping out on the family farm, listening to music, traveling and watching the sunsets at Bovine.