POSTED BY DATASCOUT ON AUG 19, 2016 IN NEWS | COMMENTS OFF ON PRESS RELEASE – ASHLEY COUNTY ASSESSOR BETH RUSH AWARDED
---
ASHLEY COUNTY ASSESSOR BETH RUSH AWARDED TWO (2) PRESTIGIOUS LEVEL 4 DESIGNATIONS BY THE STATE OF ARKANSAS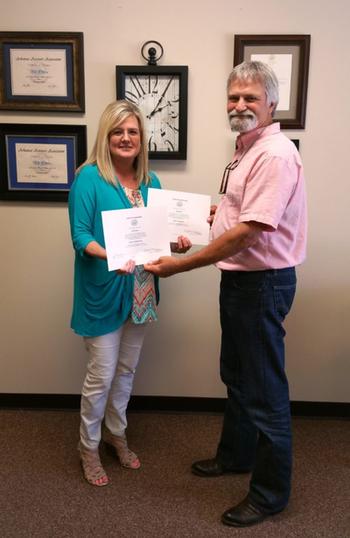 Hamburg, Arkansas July 26, 2016: Ashley County Assessor Beth Rush was recently presented with two (2) designations for advanced study in the field of property assessment by Bear Chaney, Director of the Arkansas Assessment Coordination Department in Little Rock. Rush was awarded the Level 4 designation as both a Senior Administrator and a Senior Appraiser.
The Level 4 designations were awarded to Rush after she completed her course of study entailing a series of eight (8) courses in both assessment administration and property appraisal, along with accruing a minimum of two (2) years of assessment experience.
Classes are developed by the International Association of Assessing Officers (IAAO), and taught by instructors from around the nation. Each course consists of four (4) days of a rigorous and intense classroom experience with a three (3) hour written exam on the fifth day. Courses include but are not limited to: Fundamentals of Real Property Appraisal; Fundamentals of Mass Appraisal; Appraisal of Land; Income Approach to Valuation; Assessment Administration; and Assessment of Personal Property. The designee is then required to complete 30 hours of continuing education over each successive three (3) year period to maintain the designation.
Rush was elected as Ashley County Assessor in 2012. In addition to her duties as Assessor, Rush is a member of the Arkansas Assessor's Association and was recently elected as a District 4 Board Member for the Association. She was recently appointed to the Arkansas GIS Board for a 4-year term by Governor Asa Hutchison, and is also a member of the Arkansas Association of Counties, IAAO, IAAO-Arkansas Chapter, and Kiwanis Club where she served as President…